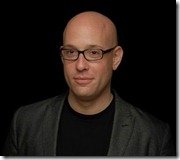 Adam Broitman is a recognized wizard in all aspects of the ever-changing digital media + marketing landscape and Co-founder of Circ.us, award wining communication agency in New York.  A thought leader in the industry, Adam is known for devising cutting edge, attention-grabbing marketing strategies for Kraft, The New York Times and Panasonic to LVMH.You can follow Adam on Twitter or Linkedin.
G: How and why did you get into social media business?
A: I have always been in media and marketing—social media is a natural progression. You cannot be in the media+marketing and not be in the social media business—that is not possible.
G: What is it like to be a real Social Media Citizen?
A: As far as consistency goes, I am not doing so well with that these days. Prior to starting Circ.us I had a daily regiment—my blog was A Media Circ.us and my day always started with scouring wires and talking to friends about new advances in social technology. Today, I am doing my best to run a business and keep my social head above water. Seesmic Desktop helps a lot with that.