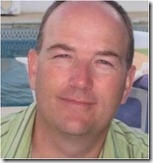 Nick Baggott is the Founder of Navigate Consulting, world class CRM, data & digital marketing consultancy. Previously, Nick was the Group Client Service Director at Chemistry, where he led the team that won the Microsoft, Diageo and Transport for London pitches and worked with clients of the calibre of Kodak, Toshiba, Unilever, Nestle, Yell and Manchester United. Nick is also the Course Director at CIM and a Fellow of IDM. You can follow Nick on Linkedin or his blog.
G: How and why did you get into social media business?
N: I have always been fascinated by how brands can engage more effectively with their customers. I started my own CRM focused agency with 3 colleagues back in 1993 and the agency evolved as the marketing environment changed. By the time I left Chemistry and set up my own training and consulting business (Navigate Consulting) in 2007, social media was being used but not really understood by marketers. It was natural therefore, for me to focus my new venture on enabling brands to build engaging relationships with their customers using digital channels. I was appointed by Microsoft to run training programmes for their marketing teams in EMEA and LatAm, covering CRM and digital, and that was the springboard I needed. It was also natural for me to use social media to promote my business and built my reputation though thought leadership on my blog and Twitter.
G: What is it like to be a real Social Media Citizen?
N: You need to be alert and inquisitive. I am always switched on to the social media channels that I use (blog, Twitter, Facebook, Delicious, Linked In). I reply quickly, try to stimulate thoughts and debates and share best practice from the many experts I meet in my day to day work. I work with so many great global brands and they all have experiences and challenges that I can learn from and share.
G: What are your favourite Marketing/PR tools on social media?
N: I love Delicious. It allows me to share articles and sites that I rate. It allows my clients to find content that they may not have seen themselves and I also use it to prompt me about things I am going to blog about in future. Then when I sit down to blog, I can review the Delicious links and see what they stimulate me to write.
G: What are your Top 3 secrets of social media marketing?
N: My Top 3 is:
Old rules and new tools – don't throw away everything you have learned in your marketing career so far, most of the core principles still apply

Understand the role of each channel in your marketing comms mix. I use a simple, 4 step relationship marketing framework. It helps me to figure out the roles of each channel. For example, you can't expect to acquire new customers on Twitter, but it is a very effective way to engage with customers.

Test and learn – most of the media is free, once you have a plan, just go do it, but make sure you have figured out how you'll know whether it is working. You need to measure customer engagement, by tracking customer behaviours.
G: What is the funniest/most unexpected thing that happened due to social media?
N:  I was quite surprised when a student set up a Facebook group called "Digital Marketing the Nick Baggott way".
G: Describe yourself in five words?
N: Inquisitive, maven, entrepreneurial, pragmatic, story-teller
***
A big Thank You to Nick for his great insights!! You can find the rest of the interviews with the Social Media Citizens at Social Media interviews category