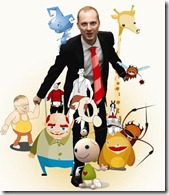 Darius Bagdziunas is a Co-founder and Director of Gaumina, one of the most awarded interactive agencies in Eastern Europe at the moment operating in UK, Ireland and Lithuania. Darius was involved in over 600 virtual projects and won over 100 awards while working at Gaumina. He has read 100+ lectures with topics related to digital media including University College London,  Mindtrek, TEDxVilnius. Darius was a jury member of the Young Cannes Lions 2009, Europrix 2010, Golden Hammer 2009 and  Irish Web Awards 2009. You can follow Darius on Linkedin, Facebook and Twitter. 
G: How and why did you get into social media?
D: When I was a child I was dreaming of becoming a sort of magician who could create fun in people's lives. The birth of the world wide web gave me a chance to enter a world of interactivity. In 1998 we started an interactive agency. Today some parts of my dream has been already fulfilled: we at Gaumina create mysterious journeys, adventures and virtual experiences.
G: What is it like to be a real Social Media Citizen?
D: I read more. I write more. I learn more all the time.
G: How do you plan your social media activities for the day?
D: Social media is an exciting mash-up of topics, formats, channels, people. In order to communicate my message I have to select proper ingredients in exact proportions. When I'm planning my daily social activities I often wish I had 3D Excel.
G: How are you keeping up-to-date with social media environment ?
D: I write a lot, give many lectures in conferences and universities, constantly create digital strategies. When I need to come up with something interesting the first place I search is online. I think using a search engine is an art or at least a competence any social person must master. It requires dedication. But when you really learn to harness search you can quickly find things you would never have imagined.
G: How would you define a  Social Media Citizen?
D: A person who understands that interactive is not online, interactive is TO PLAY.
G: What are your favourite social media campaigns?
D: My favourites are:
G: What are your Top 3 secrets of social media marketing?
D: My Top 3 are:
Make life better
Provide fun
Employ ideas that have never been seen before
G: What do you see in the future for the social media?
D: The Internet today can be compared with the electrical networks of 1900. Electricity was introduced in order to light the streets. Nobody even dreamed that electricity could be "put into things". When the first vacuum cleaner was introduced it did not have a plug because sockets did not exist. You had to unscrew a light bulb and directly connect the vacuum to the mains for it to work. A similar situation exists now with the Internet. The evolution of informational logistics is dramatically changing its shape. Moore's law is working. Machines will keep doubling their calculation power, get smaller in size and become more affordable. Other new devices besides computers and phones will provide our "window to virtual space". Imagine being able to pick up a wine brand in-store and using the bottle as a screen to read third party reviews about the product inside.
G: Describe yourself in five tags?
D: "Harder, Better, Faster, Stronger" Daft Punk.
G: What's your favourite hobby?
D: Reading.
G: What don't you like about social media?
D: One of my friends described a movie "Social Network": "This is a movie about how much we could achieve if we were not wasting time on Facebook".
G: What is the funniest/most unexpected thing that happened due to social media?
D: We had and opportunity to create some amazing campaigns for our clients:
More interesting cases can be found at http://www.youtube.com/gaumina/
G: How did social media change your life?
D: The chance to become "friends" with The Queen of England or President Obama is a reality, proving that anything is possible.
***
A big Thank You to Darius for his great insights!! You can find the rest of the interviews with the Social Media Citizens at Social Media interviews category