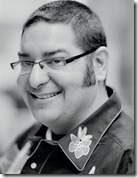 Saul Colt is the founder of Saul! – The Idea Integration Company specializing in online and offline experiences, branding/communications and social media. Currently working with Ebay.com, Ziplocal.com, FreshBooks.com, Upstack.com and ChickAdvisor.com. Saul was named to the 2009 iMedia list of iMedia 25: Internet Marketing Leaders and Innovators. He is also a professional speaker  who has spoken at over 200 conferences, covering the topics of Entrepreneurship, Customer Service, Startups, Community Building and Word Of Mouth Marketing. You can follow Saul on Facebook,Twitter or Linkedin.
G: How and why did you get into social media?
S: This is kind of an interesting story, and I say kind of because maybe it really isn't. Back in the late 90's I founded a Comic Book Publishing company and needed a way to promote my books so I went where I knew comic book fans were, at that time it was usenets and bulletin boards mostly. You see the concept of Social Media has been around longer then Facebook and Twitter and by developing relationships with my readers I was able to compete with the likes of much larger publishers.
G: What is it like to be a real Social Media Citizen?
S: I think the concept of Social media Citizen is different for each person. I've made a decision that I am (for the most part) always available and online all the time. I don't plan time for Social Media activities but rather have made it part of my lifestyle and don't worry about consistency because I post and engage as I see fit and if I need to disappear for a day or something I don't think twice about it.
G: What are your favourite social media hang out sites?
S: I like the big three Twitter, Facebook and LinkedIn but use each to accomplish different goals and objectives. Facebook for me is all about pictures for me and the ones I like most come out around Halloween. Twitter is my most used and most observed platform. I work and play on Twitter and would probably miss it the most if it went away, and finally LinkedIn is all work work work.
G: What are your Top 3 secrets of social media marketing?
S: I can't tell you cause it is a secret

G: Describe yourself in five tags?
S: Smartest Man in the World.
G: What don't you like about social media?
S: Popularity is sometimes confused with success.
G: What is the funniest/most unexpected thing that happened due to social media?
S: Girls found me irresistible.
G: How did social media change your life?
S: Social Media opened up the world to me. From a personal stand point I have met most of my closest friends through different "real world" activities that stemmed from an original Social Media introduction or encounter. From a business perspective, I can thank Social Media for giving me the soapbox to spread my messages and get an amplified spotlight in return that has resulted in many amazing opportunities that would have never happened if people didn't know I was brilliant!
***
A big Thank You to Saul for his great insights!! You can find the rest of the interviews with the Social Media Citizens at Social Media interviews category