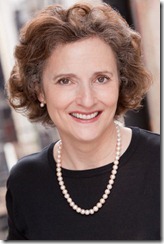 Robin Fray Carey is CEO and Co-Founder of Social Media Today, one of the most popular social media news websites online. Social Media Today LCC also helps global organizations create purpose-built, B2B social communities designed to achieve specific, measurable corporate goals by engaging exactly the customers and prospects they most want to reach. Prior to Social Media Today, Robin founded and managed Custom Publishing Group. Since 2005, Robin has been working pro-bono as Board Chair of Advocacy and Communications for the Women's Refugee Commission, a non-profit organization which has as its mission the promotion of the well-being of women and children, who comprise 80% of the world's refugee population.You can follow Robin on Twitter,  Linkedin or Facebook.
G: How would you define a social media "influencer"?
R: Someone who not only has a large network but can compel off-line behaviour.
G:
How do you measure the influence?
R: Size of network, size of extended reach of network, and # "transactions".
G:
Who/What is influencing you on Social Media Properties?
R: Hmm, many of the members of the Advisers on Social Media Today, and fellow members of Society for New Communications Research. Most particularly, Jonathan Baskin, Tom Foremski, Shel Holtz, Paul Gillin. Gini Dietrich, whom I read but does not fall into either category. Paul Greenberg, Brent Leary, Esteban Kolsky for the CRM side. Susan Scrupski for some time. Early influenced by Brian Solis. Newly influenced by Saul Berman, whose book, "Not for Free," runs in the face of the "freemium" business thinking.
G:
What are the key mistakes when targeting influencers and how to avoid them?
R:  Never spam. Choose carefully, and look at the obvious stuff, Klout scores, but also the influencers willingness to engage directly with you. Better to have a less-networked influencer who will help you than a high-Klout score influencer who won't give you the time of day.
G:
Do you think targeting influencers is overrated or is it an important part of Social Media Strategy?
R: It is critical to B2B, and getting more traction in B2C as it becomes easier to do. Zuberance offers a great tool for targeting influencers, whom they call Brand Advocates, in B2B.
G:
What are the trends that you are following at the moment and feel most passionate about?
R: Editorial independence and quality are re-emerging as important concerns for social media. They're what I think about the most.
G:
How the growth of social commerce will affect marketers? Why is it important?
R: It's critical although not that easily understood. Recent studies have shown that Facebook ads don't have a lot more traction that traditional online advertising, but peer recommendations and brand advocacy, or "word-of-mouth" is the single most critical marketing tool that exists today. Better than broadcast, and much cheaper.
G:
Is social media integration becoming a quality standard of successful company?
R: Hmm. Certainly for customer service, and increasingly for internal communications and collaboration (see Andrew McAfee on that.)
G:
How and why did you get into social media?
R: I liked it. I started reading blogs and blogging during the most recent Gulf war because I was appalled by how little scepticism existed about the rationale for war, and how flimsy was the connection to 9/11. My sons were teenagers when Facebook came out, and they turned me on to social networking. Then I began to think about how this would exist as a business, particularly since my background was in print advertising.
G:
What are your favourite social media hang-out sites? (Other than FB, Twitter and LinkedIn)
R: My own.
G:
Is sharing becoming a form of showing gratitude to your peers rather a relevant metric?
R: Yes, along with comments, RT's are the highest form of flattery.
G:
What are your favourite social media campaigns?
R: Companies: IBM, SAP, Thomson Reuters (AlertNet),
1. IBM: Social Business/Use of Tumblr/Internal Communications
2. NRDC: Blogging syndication and bird lovers page on Facebook
3. Siemens (client) and The Energy Collective, sponsoring an editorially independent community without trying to dominate it