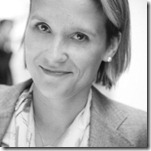 Maggie Fox is the Founder and CEO of Social Media Group, one of the largest independent social media agencies in the world. While working at SMG, Maggie has helped to create and execute social media strategies for the  likes of Ford Motors, SAP, Thomson Reuters, 3M and CNN. Maggie is a regular  speaker at the top social media events and has been interviewed by The Washington Post, The Globe and Mail, CBC Radio and CTV News. She was named one of the Top 100 Marketers in the 100th anniversary edition of Marketing Magazine. Maggie also sits on the Advisory Board for Social Media Today and My Venture Pad sites.You can follow Maggie on Twitter , Facebook or LinkedIn.
G: How and why did you get into social media?
M: I've worked in the web business for over a decade, but started blogging personally in 2004. It was a great outlet and I really enjoyed the closeness of that community in the early days – I still remember meeting my very first Internet friend!
G: What is it like to be a real Social Media Citizen?
M: I tend and feed my network, which largely centres around Twitter these days, several times a day. On busy days, not as often. That means sharing what I'm doing, reading, and thinking, as well as connecting with people I know and find really interesting. I also often upload pictures to both Twitter and Facebook. I also make an effort to comment on posts that link to us and connect with people who find our work interesting.
G: What are your favourite social media hang out sites?
M: Generally Facebook and Twitter, but I am also finding Tumblr very interesting and also make an effort to check out new and emerging platforms as I can. Internally, we use Yammer, which is also great for sharing content and connecting with the folks I work with.
G: How are you keeping up-to-date with social media environment ?
M: Ugh. I never seem to be able to read as much as I should, and I get inputs in two ways – "human RSS" via Twitter (links people share) and actually via email, of all things – I really need to rely on other people to curate content for me since my time is so limited!
G: How would you define a  Social Media Citizen?
M: Someone who connects and engages on social platform – a member of our social community!
G: What are your favourite Social Media Citizens?
M: My favourites are:
G: What are your Top 3 secrets of social media marketing?
M: My Top 3:
Be yourself

Deliver value
Think differently
G: What do you see in the future for the social media?
M: Everything is social.
G: What don't you like about social media?
M: It can be a time suck – it's true!
G: What is the funniest/most unexpected thing that happened due to social media?
M: Being able to start a business and do ground breaking work year after year; it's been amazing.
G: How did social media change your life?
M: I have never met so many new people, or had such a diverse group of friends. Social has changed my life by allowing me to.
***
A big Thank You to Maggie for her great insights!! You can find the rest of the interviews with the Social Media Citizens at SMC List or Social Media interviews category.