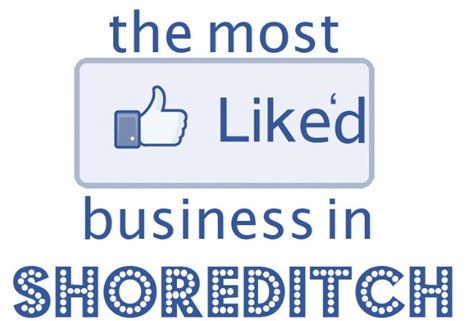 I am very excited to announce that we at Nearby Digital are starting a new project for local businesses called  'the most Like'd business in Shoreditch'. As a location focused social media marketing agency we felt that we want to get to know local businesses better and we want to do that not through the monitors of our PCs:) Therefore we came up with the idea of photo album of local businesses in Shoreditch (London). We think it is going to be a great opportunity for people working in this area to get to know each other and have a bit of fun as we also doing a competition of most Like'd business picture on our Facebook page.  How is it going to work? Well here is a short description what we have in mind:
– We take a fun picture of you and your business team.
– We upload it to ' the most Like'd businesses in Shoreditch' album
– You tag yourselves in a picture and ask your friends to 'Like' it.
– The photo that has the most 'Likes' will win and at the end of each month we will announce – the most Like'd business in Shoreditch.
So get ready as we will be knocking on your door soon!
For more information contact us: like@nearbydigital.com or just post your question on the wall!