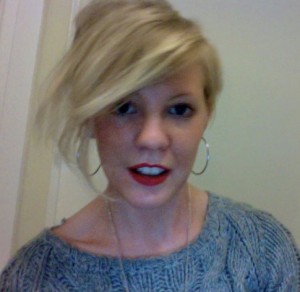 Emma Gannon is currently a global  community manager of Dove Facebook. Emma has experience of community managing blogs, Twitter and Facebook pages for international brands. Emma has a strong interest in writing, whether it be for her personal blog, reviews for online magazines, or contributing articles about social media to the Edelman digital blog. You can follow Emma on Twitter, Facebook or Linkedin.
G: How did you build your experience as community manager? 
E: I first gained experience when community managing a variety of P&G household UK Facebook pages, responsible for the online monitoring and drafting of monthly editorial calendars. I love reading and sharing the news which lead to me to discover how much I enjoy managing communities, finding fun and relevant information I can apply to the fan page, joining in with the conversation and delivering engaging ongoing content. Now I manage a global Facebook page, liaising with local markets across 31 different countries, working as one team to assist the brand in global social media engagement.
G: What platforms are you most active on? 
E: Either Twitter or WordPress.
G: What are you top resources for community management?
E: Behind every good online community is a good community manager. The best resources can be found by looking simply around online and seeing what other brands are doing with their communities. Independent bloggers such as LibertyLdnGirl are good examples of self-made brands that are successful at securing the communities they have created themselves from scratch, creating fun ways to deliver constantly engaging content for the community. Equally, fashion outlets on Twitter such as @ASOS and @Forever21 are successful at engaging with their communities, mainly by always asking their fans questions such as: 'What would you like to see more of?' and directing their fans to discounts, offers, and latest fashion news. The fashion industry constantly changes depending on popular opinion, the season, what's hot and what's not. This is where social media really steps in by helping brands notice trends in real-time and subsequently be ahead of the curve as well as gaining organic consumer insight. These Twitter accounts are also very active over the weekend, which is very important.
G: Who are your favourite community managers or community management case studies? 
E: My favourite example of community management still has to be Scott Monty, the social voice and face of Ford Motor Company. He truly exemplifies the fact that CM is about a person/or people wholly representing the brand, through personable and human interactions online. Ford also have @focusjohn and @focusdoug who, through Twitter, are currently giving online updates on the all-new 2012 Ford Focus, which includes Youtube clips and answering motor-related queries to the die-hard Ford fans in real-time. I think it is genius.
G: Where is the best place to build the community? (Company website/Facebook/Twitter and etc)
E: Each brand is very different; therefore it depends on the audience they are trying to reach and where their fans are living online already. For example, a brand that lacks video content would not try and launch a Youtube channel.  It can be more damaging to a brand to 'jump on the social media bandwagon' without thinking about the strategy behind it first.
G: What do you have to provide the community to make it work?
E: You have to be on the ball, upbeat and creative. It is so important to have a strong editorial calendar and posting schedule. It is okay to pilot test new ideas to see if they work before permanently implementing them. Being consistent in timing is important as fans will return to the page with expectations. If there has been a bulk of content delivered and then nothing for a few days, fans will get bored quickly and drop off. It is also important not to concentrate too much on the mechanic of attracting fans, but to make sure the focus is on retaining and engaging with current fans. Community managers should also make sure that posts are scheduled over weekends as there is always a high engagement rate at this time (and of course all sorts of different times in the day if it is a global page). It really is 24/7.
G: How do you attract new community members?  
E: By being human, friendly and helpful. As community managers we are here to serve and support the community, not directly sell anything.
G: What kinds of content do you share and post most often on the community platforms?   
E: It is important to keep posts short and sweet and most of all, engaging. Buddy media sapplets are a great idea for a Facebook page allowing fans to spend time interacting and navigating around page as if it was a microsite. Having an inviting landing tab is also very important if you need to drive traffic to a particular tab where you might be hosting particular campaign material. Embedding photos and Youtube links can also add value to 2D status updates. I like to not restrict the fan response by asking limiting questions, as the page is a forum for expression and this way we gather real insights from consumers which can be used as ongoing content.
G: Does the size matter? 
E: Communities are not just about the numbers, (and this is why I also believe it to be a big no-no to send out invites for people to join your community. It should always be organic). A small community can be just as influential as a big one, often more so. Every conversation starts with one person, so community size is irrelevant, it's important to put 100% effort into every community, regardless of size.
G: Do you have any social media crisis management experience? If yes, what is the best way to approach the problem?
E: From my experience and learning's, it is important to be timely and not hide away from an online crisis. It is definitely a case of the sooner the better:
a)      Embrace transparency.  Directly respond to an issue, even if it means admitting mistakes.
b)     Do not delete anything!!
c)      If possible, take the conversation offline. If serious, release a statement on brand's own website. That way, the conversation is happening in one controlled space, as opposed to comments hiding in the dark corners of the Internet.
d)     Monitor all streams, all brand channels, set up Google alerts of any key words surrounding the issue. Heavily monitor the situation for as long as needs be.