With everyone going on about the wonders of Facebook and Twitter, our poor friend LinkedIn sometimes gets left out in the cold.  While not one of the most visible sites, it is definitely one of the most powerful.  With millions of people from all over the globe taking part in the conversation on LinkedIn, it is definitely a place online where your audience thrives.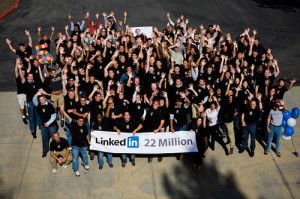 What I usually hear when I speak to prospective clients about LinkedIn is that "I'm not B2B, I'm B2C.  LinkedIn will never work for me."  Aside from that statement oddly rhyming, that statement can't be more false.  Whether you are B2B or B2C, you can carve out your own audience on LinkedIn.  I've said this quite a bit, and lately people have been asking me to put my money where my mouth is asking "Can you prove that there is ROI in LinkedIn?"  My answer, "Absolutely!"
About 60% of my business comes from LinkedIn.  True.
While my firm may be unique, we handle accounts for a wide array of clientele that get results on LinkedIn.  Not only sales and referrals, but speaking engagements, sharing of content to a wide audience, hits to their website, media appointments and much more.  I'm not saying that 60% of your business WILL come from LinkedIn, but it is definitely a spot where you need to be.
But my purpose here isn't to sell you on the wonders of LinkedIn.  It is targeted to those of you out there who are registered with LinkedIn (for a week, a year, 10 years, whatever) and don't have your completed and are just waiting for the magic to happen.  Generally those like this complain that they don't see any results from LinkedIn.  Here's why: you're not doing anything.
So let's get moving and create some stellar results!  Here are my 5 LinkedIn "Must Haves" when you are trying to market yourself using this massively useful site:
1.  You MUST Fill Out Your Profile:  A name and title is not enough.  LinkedIn gives you ample opportunity to showcase yourself and your brand.  Instead of leaving half of the profile blank (the percentage of which LinkedIn will show you on the right hand side of your profile), why not take an hour or two and really fill it in properly.  Want people to call you?  Add a phone number.  Want people to look at your website?  Mention it with hyperlink at the drop of a hat.  Don't skimp here…this is where people are going to find you credible or not credible.  Oh, and one final thing.  Have a professional profile picture, nothing wild and off brand.  No picture = no credibility in my book. Read the full story